Information
Opening hours
Monday – Friday: 2 pm – 6 pm
Saturday: 10 am – 1 pm
Sunday closed



Admission
Adults: 10,- €
Concessions (seniors over 65, children under 18, students, disabled persons): 8,- €
2nd floor guided tour (only in German or Italian): 10,- € / 8,- €
We regret that the exhibition is not suited for small children.
You can visit the rooms on the first floor.

You can visit the rooms on the second floor only with a guided tour. We only offer guided tours for small groups. Please book a tour in advance. Due to the construction of the villa and to protect sensitive objects you cannot visit the rooms on your own. A guided tour costs 10,- € or 8,- € per person, it lasts 1.5 hours and is in German or Italian.
What to expect:
First floor: In two exhibition rooms you gain an insight into the biographies of the former inhabitants of the villa in the years 1922-1941 and you visit the study and the two drawing rooms of family Fromm.
Second floor: This floor is where Rosamaria Navarini lived alone from 1978 to 2013. Furniture, art and everyday objects are on display. We receive you like guest in a parlour. We tell the history of the villa and the family and show you selected objects.
If you like to go on a guided tour outside the opening times, please phone us or send us an e-mail.
Further information and to book guided tours:
Phone +39 0473 42 51 49
Mobile: +39 339 43 21 283
E-mail: info@villafreischuetz.org
E-Mail foundation: info@fondnavug.org
"Garden of animated silence"
We want to preserve the wild character of the garden. So we only cleared it very gently. During opening times our visitors are welcome to visit the garden, too.

Enter the garden at your own risk!
Accessibility
For fire safety reasons people with a walking disability and wheelchair users can visit Villa Freischütz only in the company of a staff member. Please notify us in advance.
A lift leads to both floors of the museum. And a gravel walk leads to the museum.
The museum houses a toilet for the disabled.
As a historic villa Villa Freischütz has literally many thresholds and bumps. We try to make access to the museum as easy as possible for all visitors.
Directions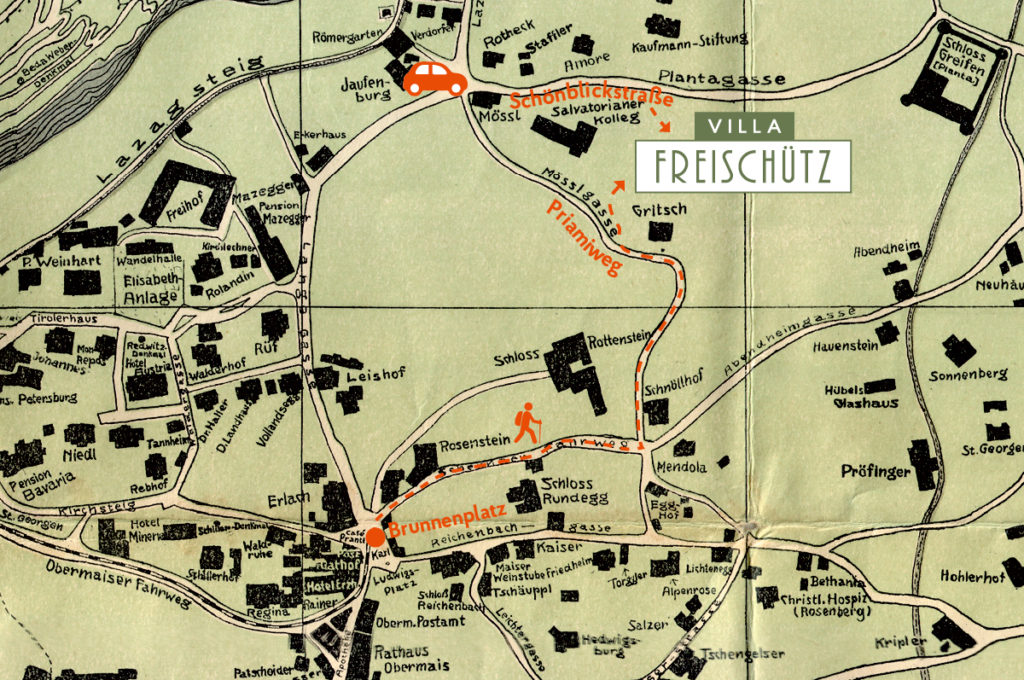 If you come by car, please use the private road and entrance via Schönblickstraße 8.

There are only a few spaces on the car park. From the underground car park near Brunnenplatz it is a 5 minute walk via Priamiweg to the museum.

By bike and on foot you can also access the museum via Priamiweg 7.

Bus no. 1/1A/1B from Merano Central Station in the direction of 'Meran 2000/Botanischer Garten Trauttmansdorff' takes you to 'Brunnenplatz' (access museum via Priamiweg). Bus no. 3 in the direction of 'Vergilstraße' takes you to 'Kindergarten Obermais' (access museum via Schönblickstraße).
Address
Villa Freischütz
Priamiweg 7
39012 Merano